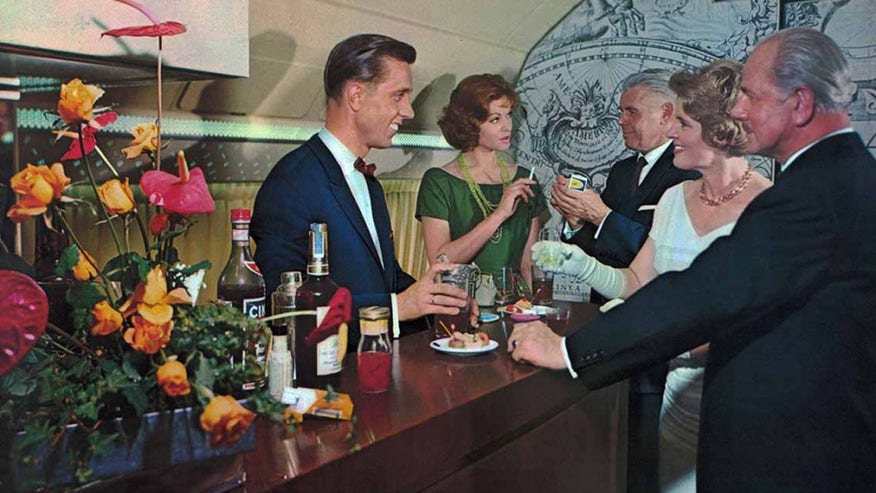 Airline travel hasnt changed much in the past 50 years. Unless you believe images taken in the 1960s, in which case travel is now less fun, more sober, confined, somber and downright depressing.
The following images were first published by AirlineRatings.com, which explains to The Telegraph that the images were amassed over 40 years from now-defunct airline PR departments.
What follows are just a few that we rather enjoyed from a time that certainly looks to have been quite enjoyable.
So lets head back to a time when smoking was encouraged and drinking was considered a meal.
First up is this image from Facebook:
According to Poor Mans Stanley Tucci, the above image proved that a rousing game of Go Fish! Always ended the minute trust in your travel partner concluded. Still, this beats figuring out how to passive aggressively get the kid behind you from kicking your seat.
(Airline Ratings Historical Collection)
Before the advent of Google Maps, creepy old guys in costume came by to show you where you were going.
This also raised the obvious question of who exactly was flying the plane if the captain was back in coach delivering geography lessons?
(Airline Ratings Historical Collection)
If you are old enough to remember the '60s fondly, we regret to inform you that you are no longer in a key demographic.
That being said, we feel comfortable simply making things up about the decade: Everybody was drunk and the only pick-up game you ever needed was having a match for that soon-to-be-smoked cigarette.
(Airline Ratings Historical Collection)
Dinner service in the '60s didnt bring with it the promise of stomach discomfort. Apparently, it invited the kind of intrigue and curiosity that usually garners elaborate expeditions to exotic locales.
(Airline Ratings Historical Collection)
Seriously, who is flying the plane?
(Airline Ratings Historical Collection)
Your next flight will come with the revelation that for the next six hours you will have to make amends with fighting over the armrest and dealing with the smell of whatever it is your neighbor just ate.
This is a far cry from how it was in the '60s when one of the perks of travel, apparently, was an official pillow fluffer who would make daydreaming about your station in life all the more enjoyable.
We hope this reminds you that airline travel, unlike wine and Patrick Stewart, ages rather poorly.
More from TravelPulse
3 Hotel Packages Perfect for a Christmas Getaway
Can a Cruise Ship Fit Under a Christmas Tree?
Holiday Travel Tips to Chase Away the Airport Blues
The 8 Best Holiday Lights Displays in the U.S.
Where to Party in Vegas for New Years Eve
Read more: http://www.foxnews.com/travel/2015/12/18/6-photos-tthat-prove-airline-travel-was-much-better-in-60s/