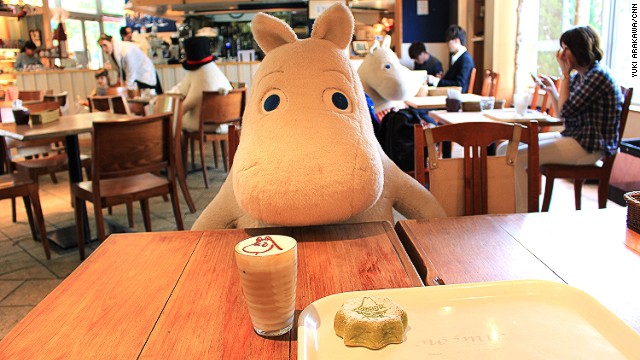 (CNN)Talk about creative coping mechanisms for being alone — from the blogger who photographs selfies with his imaginary girlfriend to the company that takes your stuffed animals on vacation without you, Japan appears to be cornering the market on accommodating solo travelers.
You can now add the "anti-loneliness" Moomin House Cafe to the menagerie of "wait, what?" strokes of Japanese brilliance.
We first
wrote about the Moomin House Cafe in 2012
, but the cafe went viral a few weeks ago and has since been besieged with customers wanting a taste of its "anti-loneliness" magic. CNN's Yuki Arawaka paid a visit (see gallery photos) following the cafe's new surge in popularity.
To save its lone customers from the awkward perils of solo dining, the cafe kindly seats diners with stuffed animal companions called Moomins, a family of white hippo-like characters created by Finnish illustrator and writer Tove Jansson.
Moomins are brought to each table so that patrons — solo or in groups — can have a turn sitting with them.
Weekday mornings are the quietest time, while weekends are packed all day long.
Respecting Moomin culture
To honor the characters' heritage, Moomin House Cafe serves bread made from Finnish rye, and offers food and pastries in the form of Moomin characters.
Cafe staff say there have been long lines almost every day since its "lonely-friendly" concept went viral.
It's a long overdue turn in the spotlight — the cafe has been open since 2003.
Beloved for their whimsical adventures and diverse array of characters,
Moomins are celebrated
in their home country of Finland and anime-obsessed Japan.
This year marks the
100th anniversary
of the birth of their creator, Tove Jansson, who was born in 1914 and died in 2001.
Read more: http://www.cnn.com/2014/05/15/travel/japan-moomin-cafe/index.html