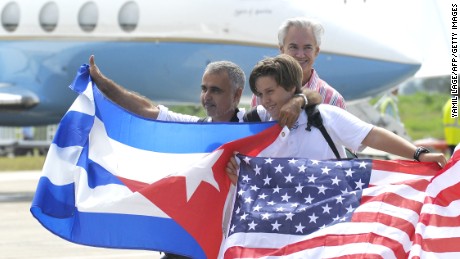 Havana (CNN)President Barack Obama this week nominated the first US ambassador to Cuba in more than 50 years, capping a multi-year process to open a new diplomatic relationship with Havana.
Jeffrey DeLaurentis, Obama's nominee, currently serves as the US charge d'affaires in Cuba. Despite his qualifications, DeLaurentis is unlikely to receive the promotion because senators opposed to Obama's Cuba opening are unlikely to approve his nomination.
It is the latest example of American moves laden with symbolism that don't always translate into on-the-ground changes for the island just 90 miles from the Florida Keys, though the US president and his policy remains popular even so.
Cuba residents expected the renewed ties with the US would help improve their quality of life, but more than a year after the formal resumption of relations, many told CNN that they feel not much has changed.
There have been moves toward improving economic ties between the two countries, and earlier this month the first commercial flights resumed between the US and Cuba. But Obama's call for Congress to lift the US embargo against Cuba hasn't been successful.
When Obama made a historic visit to the Communist country in March, many in the US and Cuba hoped it would be a catalyst for the government to grant more freedoms to its people and open the doors for American businesses in the country.
"When (Obama) was here, we were yelling happily, 'Obama! Obama!,' as if we were excited he was visiting us," a Cuban told CNN in Spanish. "What we really meant was, 'Obama! Help us!,' because we want more freedom like Americans."
This middle-aged man, like most Cuba citizens who spoke to CNN, said he didn't want his name to be included in a story in the US media for fear of a backlash from his government.
Most Cubans who did agree to speak anonymously had only positive things to say about Obama.
"When he visited, that was a big deal and important to the country. Everyone paid attention," one teenage girl told CNN.
Read more: http://www.cnn.com/2016/09/29/politics/cuba-us-ambassador-obama/index.html