There are a million reasons to visit Rio de Janeiro, Brazil, including the fact that the beaches are magical, the foodie scene is bustling and the nightlife is world class.
We know all this. But now that we've learned about Pedra da Gavea, a mountain towering approximately 2762 feet above the vibrant blue of the South Atlantic, we have our sights set on a different kind of Brazilian adventure:
The mountain sits within beautiful Parque Nacional da Tijuca, a large expanse of tropical rainforest right in Rio.
From afar, the side of Pedra da Gavea resembles a human face. While some think ancient humans carved it that way, most scientists and geologists maintain that the "face" is simply the result of erosion.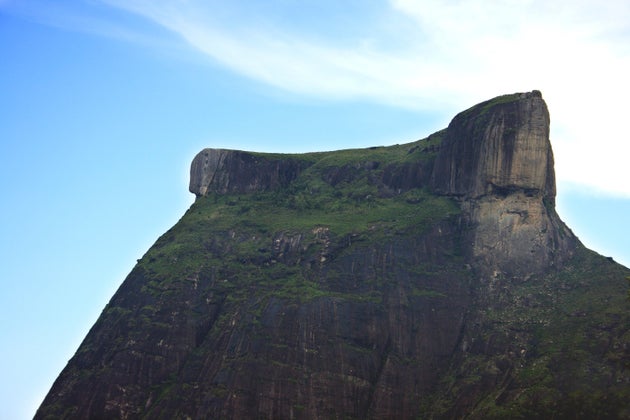 From the top, the mountain offers panoramic views of the national park, the ocean, and the city below — but you'll have to put in the work to get there.
To make the journey, enlist the help of a local tour company or brave the way on your own. The hike takes about 3 hours each way and includes a small amount of rock climbing, so a solid fitness foundation as well as plenty of sunscreen, food and water are essential.
It's definitely a trek, but what could be more satisfying than scaling a mountain? Plus, you'll come out of the adventure with the most epically terrifying photos ever. Seriously, your Instagram followers will freak out:
According to people who have done it, it's just as scary as it looks.
"It's not an illusion,"Julianna Oliveira, the hiker in the photo below told the Huffington Post. "We must be very careful." She also said having a good photographer is key to capturing the right angles.
We'll leave the scariest poses to the daredevils — we're getting enough of an adrenaline rush just scrolling through their photos.
Read more: http://www.huffingtonpost.com/2016/04/13/rio-pedra-da-gavea_n_9694510.html