Craving a break from work? You're not alone.
By and large, Americans get significantly fewer vacation days than workers in other high-income countries. But the truly sad part is we fail to use the few vacation days that we do get.
In fact, more than half of Americans took seven or fewer vacation days last year, according to a recent HuffPost/YouGov poll.
Even worse, 32 percent of survey respondents said they took ZERO vacation days in the last year. That's some saddening news.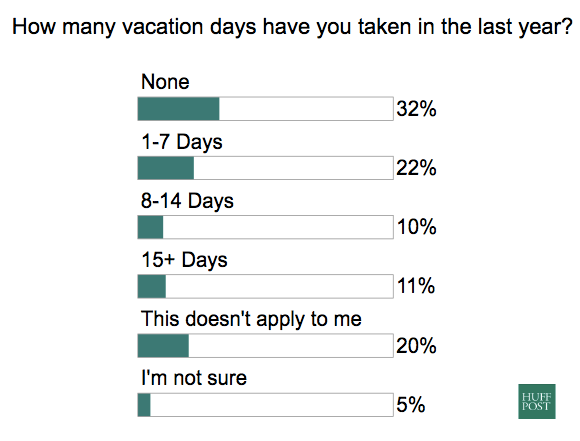 HuffPost conducted our poll of 1,000 U.S. adults last month, in order to confirm previous research about Americans' problematic vacation habits. It's worthwhile to note that some of the respondents who said they took zero vacation days also indicated they are retired or not currently working. Even when we remove them from the data set, nearly half of respondents say they took fewer than 7 days off in the past year.
Survey participants identified money as the main difficulty with going on vacation. Thirty percent of people we surveyed who are currently working said the biggest barrier to taking time off was lacking the funds for a trip. (Spoiler alert: We hear you. And that's why we've launched Take A Break, a 30-day action plan that will help you plan the affordable trip of your dreams… even it's just a one-day break in your hometown).
Our survey, however, left a bit of information to be desired. More than a quarter of working Americans said their biggest issue with taking time off was not listed in our poll. So tell us: Why aren't you taking more vacation days?
We don't know what you do for a living, but we do know you likely need a break. And, nearly halfway through the year, we're challenging you (yes — busy, overworked, financially stretched you) to #TakeABreak.
During the month of June, we'll help you nail down how many vacation days you have at your disposal, figure out where to go, and plan a trip you can actually afford. For 30 days of travel tips, cheap flight hacks, vacation ideas and wanderlust galore, sign up for our Take A Break action plan here!
The HuffPost/YouGov poll consisted of 1,000 completed interviews conducted May 25-27 among U.S. adults, using a sample selected from YouGov's opt-in online panel to match the demographics and other characteristics of the adult U.S. population.
The Huffington Post has teamed up with YouGov to conduct daily opinion polls. You can learn more about this project and take part in YouGov's nationally representative opinion polling. Data from all HuffPost/YouGov polls can be found here. More details on the polls' methodology are available here.

Most surveys report a margin of error that represents some, but not all, potential survey errors. YouGov's reports include a model-based margin of error, which rests on a specific set of statistical assumptions about the selected sample, rather than the standard methodology for random probability sampling. If these assumptions are wrong, the model-based margin of error may also be inaccurate. Click here for a more detailed explanation of the model-based margin of error.
Read more: http://www.huffingtonpost.com/2016/06/01/americans-not-taking-vacation-days-why_n_10249672.html