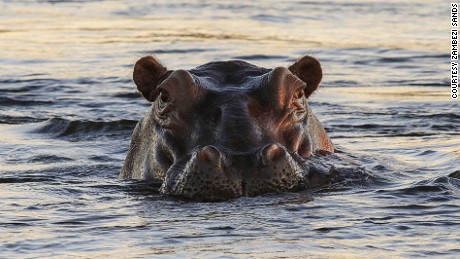 Zimbabwe (CNN)I picture a placid paddle, just a smooth morning skimming along under the sun, exploring one of Africa's most famous waterways at a slow pace.
I get something else entirely.
"We're headed 11 or 12 kilometers in the direction of Victoria Falls," my guide says, a smile in his voice as he pats me on the back. "I see you didn't pack a parachute, so we don't plan on going quite that far!"
Home to hungry crocodiles and big herds of hippos — one of Africa's deadliest animals — the Zambezi is perhaps the most storied waterway on the continent.
The river that spirited 19th century explorer David Livingstone to the heart of Africa, it runs some 2,500 kilometers, from Zambia to Mozambique and its final outlet in the Indian Ocean.
Livingstone was accompanied by an entourage of local experts.
I have Rob Shattock, a man who pioneered canoe safaris in Zimbabwe and has been plying these waters for more than 45 years.
Shattock, it seems, is something of a character.
During my first night at
Zambezi Sands
, a luxury tented camp on the banks of the river, we sat chatting over a whisky at the bar.
Thirsty for blood
We get close to other aspects of everyday life on the river.
Kids as young as 10 paddle past us, piloting makoros, small dugout canoes.
Open-billed storks sit along the shore, cracking open mussels with their beaks.
Whole families wash their dishes and clothes in the flow.
In this part of the world, the river provides for most needs — it's a road, a bath, a source of food and water.
They're scenes more and more visitors to the region could soon be witnessing as this part of Africa gears up for rapid change.
Zimbabwe has struggled to stay on the tourism beat in the past few decades as the country has endured economic strife and political turmoil that continue today.
New airport
But a $150 million upgrade to the international airport at the Zimbabwean town of Victoria Falls that'll allow wide-body jets, including the A380, to land could help the alter the country's fortunes.
The goal is to bring direct flights from Europe and even the US, eliminating the need for a stopover in Johannesburg.
That makes sense as Vic Falls is close to Southern Africa's main tourist spots, from the Falls themselves to major national safari parks in Zimbabwe, Zambia and Botswana.
A couple regional carriers have already signed on with major international airlines rumored to be considering flights here.
Eventually, we arrive at our appointed takeout spot.
I'm drenched, but smiling as I climb out of the inflatable kayak, feeling like a wet dog, my back a bit sore.
With that quick smile on his face, Shattock slaps me on the back, sending tiny rivulets of river water splashing out from my shirt, and skin.
"That wasn't so bad, was it?," he says, with his Zimbabwean lilt. "And we didn't even get eaten!"
Read more: http://www.cnn.com/2016/08/15/travel/zambezi-kayaking/index.html